Each month we discover a substantial amount of news about the British Small Companies and Innovation sectors. To highlight and disseminate this research, we produce a monthly eNewsletter – Gibson Index Newsletter, or 'GiN' - which contains between 30-40 pages of news and short features.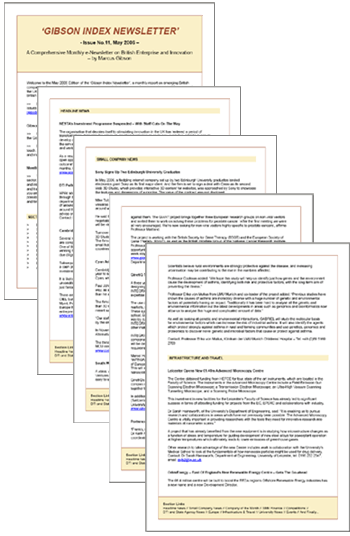 Subject headings are as follows:
Headline News

Small Company News

Company of the Month

SME Finance

Competitions

DTI and UK State Agency News

Europe

Infrastructure & Travel

University News

Late Events for this Month

And Finally...
The eNewsletter is now the most comprehensive publication of its kind, covering small companies, entrepreneurs, major finance news, developments in travel facilities and engineered infrastructure, major centre openings, news about academic enterprise and companies with novel business models.
GiN comes out on the 15th of each month, and it includes a series of 'late dates' of events for that month. The main Events Diary is issued on the 28th of each month, and lists between 30-40 pages of events in the following month. This, too, has become the most comprehensive Innovation Calendar of its type.
All subscribers and licencees to the Gibson Index database receive the Monthly Newsletter for free. Call or email us for a trial. The annual cost is £480 + VAT per subscription. To receive a sample copy, please send your details to: info@gibson-index-.com